fifty-nine
Not In Bed: Bangkok
Words & Images by Christopher English
As a regular visitor to Bangkok for over a decade, initially I made the same mistake as many in treating the city merely as a stopover, somewhere for a brief sojourn before moving on elsewhere. With further exploration came an enhanced appreciation and I quickly came to regard it as one of the planet's most fascinating cities, a place that lends itself easily to endless investigation – I now seek any excuse for an extended stay. Basing oneself in proximity of the Democracy Monument puts you in the heart of one of the city's most historic and interesting areas, largely accessible on foot and with a high concentration of fantastic food.
Benjarot
Only open for two hours a day, five days a week, this diminutive establishment alongside Nang Loeng market is easy to miss but serves up a selection of some of the city's best Isaan food. The historic market next door is perfectly positioned for a postprandial stroll.
Thanon Krung Kasem (near the corner of an alley called Trok Nang Loeng 1
No name Isaan spot
The spicy snacks of the country's northeast make the perfect match for beer and this night-time street stall serves some of the coldest longnecks of Leo around. Best accompanied with the classic Isaan trifecta of nam tok moo (grilled pork salad), som tam and sticky rice.
Corner of Thanon Tanao and Trok Sathien
Bangkok is blessed with several spectacular rooftop bars, but this low-key affair tops the lot for both price and authenticity. The view, a few fairy lights and an eclectic soundtrack all add to the ambience.
Krua Apsorn
Some places are tourist traps for good reason – yes the walls are lined with positive press clippings and no you won't be the only tourist there, but in all likelihood you will be vastly outnumbered by locals flocking for the extensive menu of winning dishes.
169 Thanon Dinso
Escapade
The burgers prepared in the shoebox-sized kitchen are worth the trip alone, but the accompanying (slightly pricey) cocktails on offer certainly help to seal the deal. Look out for the barrel aged specials prepared by owner, gun barman and booze aficionado Karn.
112 Thanon Phra Arthit
Bangkok has a plethora of spectacular temples, though frantically hopping between them in the heat of the day can quickly become tiresome. Fortunately one of the more architecturally interesting is also one of the more serene and has a shaded spot for an appreciated iced coffee in its grounds.
Between Ratchadamnoen Klang and Mahachai
These sporadic pop-up markets are packed with vintage goodness and will have you wishing for more room in your luggage. Vinyl, craft beer and artisanal street food help to contribute to a hipster haven minus the attitude.
Moo ping
Found on Ratchadamnoen Klang next to the Siam Commercial Bank, just down from the golden arches, this vendor sets up specifically for the night crowd. Do like the locals: select some skewers of marinated grilled pork, grab a stool and alternate with mouthfuls of sticky rice, bites of fiery fresh green chillies and cooling cucumber.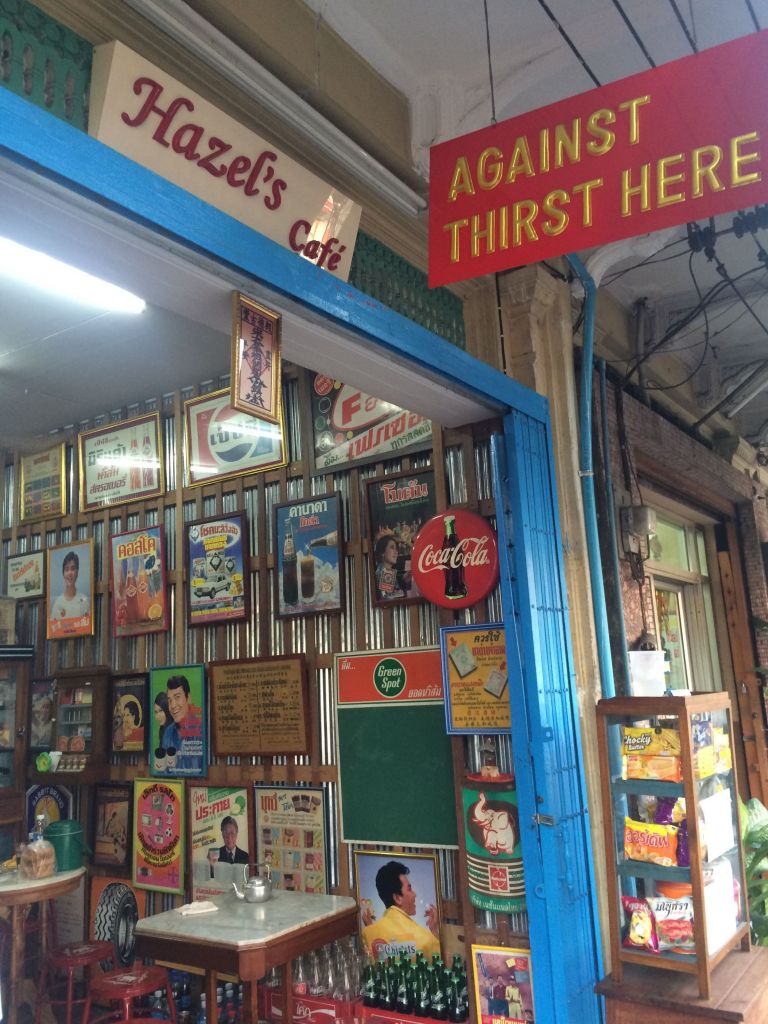 This small guesthouse tucked away down a tiny lane makes the perfect springboard for exploring Bangkok's old town. The nine rooms are immaculate and the friendly staff make it an easy place to arrive and a difficult place to leave.
If you must indulge in Thailand's most well known dish, you may as well do it here. The pad Thai is wrapped in a delicate omelette and is rightly renowned throughout the city. As an added bonus, it is served late into the night at weekends.
Nattaporn Ice Cream
Whilst you won't find salted caramel or other in vogue flavours here, the simple, all-natural selection served with traditional toppings has been scooped in this serene square for over sixty years. Best enjoyed after some grilled chicken from the stall opposite.
94 Thanon Phraeng Phuton
Hazel's
This relative newcomer to the area look likes it has been here for as long as some of its longstanding neighbours due to the collection of vintage posters and ephemera lining the walls. A perfect pit stop for a cold drink and a convivial chat with the amiable owner.
276 Thanon Tanao